Description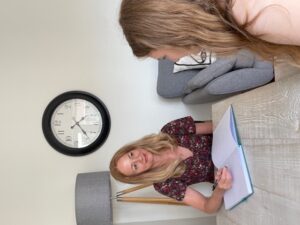 A comprehensive 90 minute consultation to help you understand what is causing your symptoms and how you can help yourself naturally to feel better by working on all aspects of your lifestyle. You may want someone to finally listen to you who understands how you are feeling who will encourage, support and motivate you into action to implement positive changes throughout your life. You will gain a clearer prospective of how you can take control of your health moving forward through midlife and beyond. We will talk about your symptoms, focusing on the main ones that are causing you the most issues and how you can help to relieve them. We will work on building up your confidence and giving you back your power to take control of your health, physically, mentally, emotionally and spiritually. This can include looking at making changes to and improving your diet, working on any stress you may be experiencing, also looking at sleep and exercise, everything that will make your hormones work more effectively. If you are interested in learning more about HRT then we can discuss your options and I can help you when it comes to talking with your GP.
After my last session, I have been able to refocus my attention onto making time to prepare nutritional meals (which is not my favourite thing to do, I've never been enthralled by food prep!) so thank you for the realignment. I have much more energy and focus, less brain fog and the anxiety I felt on waking in the morning has gone! I can't believe how much better I feel.
I contacted Sarah a couple of months ago because I had not been feeling like myself for sometime and was finding that perimenopause symptoms were making juggling a busy job, family and time for myself very difficult. I was particularly struggling with lack of sleep and anxiety and wanted to gain more information about menopause and HRT and find out if there were things I could be doing to help myself to feel better. I have just completed a 6 week 1:1 course with Sarah where as well as looking at my specific symptoms we discussed nutrition, exercise, meditation, relationships & emotional intelligence as well as HRT and I can honestly say I feel so much more informed and positive about everything with the practical tools to help me through any challenging days. Sarah was very easy to talk to, reassuring and professional and I have found her advice invaluable; I would highly recommend her to anyone needed help and advice with the menopause.
I was experiencing hideous menopause related anxiety. There was no other reason for the anxiety that I was experiencing and so needed some professional help with how to manage this. I found Sarah's website and was instantly relieved to know I was going to be in professional, helpful hands.
Right from the start, Sarah helped me with my (lack of) nutritional input and within a couple of weeks I was thrilled to notice the change. These were simple dietary changes that helped greatly without making too much of a drastic change that my pallet wouldn't want. With the changes that Sarah encouraged me to make, I noticed my night sweats and hot flushes reduce and, my energy levels increase.
Sarah helped me focus on healthy coping strategies that meant I was able to relax myself when the anxiety rushed through my body – uninvited!
I have also benefitted greatly from the massages that Sarah provided, I find this really helps get rid of toxins that are not serving me.
Sarah also brought to my focus the importance of maintaining muscle tone, again, I have been able to introduce some simple weight training at home that helps maintain and build my muscle tone. I think the focus on myself and my self-care has been so helpful to me, I've reached a point in my life where I can no longer ignore the fact that things don't work as well or spring back like they used to and Sarah has really helped me to help myself.
"I would highly recommend Sarah she has turned my life around, she has empowered me to take control over my body and the knowledge to understand what is going on with my change"
"The symptoms of perimenopause, had gradually crept up on me; forgetfulness, 'brain fog', difficulty sleeping and generally feeling a bit low and out of sorts, but as I was waiting for changes in my menstrual cycle to trigger the start of menopause, I simply brushed them off.
Then following a big change in my career, I started to struggle. I didn't think I was picking things up quickly enough, started questioning my ability and whether I was good enough for my new job, and this spiralled into anxiety and a big dip in self-confidence. I felt like I was losing my positive and happy self and was scared of the woman I was turning into! Following what I can only describe as a distressing visit to the GP, who with one eye on her PC and the other on the clock, helpfully advised me to Google to determine the best option for me – either HRT or anti-depressants – and then let her know, I turned to Sarah for advice.
When we started talking, all the bottled up emotions and worries came out like a tsunami! Sarah listened, empathised, passed me tissues and managed to convince me I wasn't going mad! She explained the biology behind my symptoms, to assure me what I was feeling was caused by a physical chemical imbalance and it wasn't 'all in my head'. I can't explain the relief I felt.
Sarah didn't write off HRT as a possible solution and she explained the pros and cons, but most importantly we discussed what other options I had. For the past eight months at Sarah's recommendation, I've been taking 100% natural remedies and I feel like a new woman – actually that's wrong, I feel like myself again!!
I've regained control of all aspects of my life and Sarah plays an essential part in my well-being. We check in regularly to make sure my treatment continues to be effective. If I need to go on HRT further down the line, I'll be able to make that decision in an informed way, but in the meantime I'm happy relying on the natural remedies that Sarah has recommended and the support she is giving me."
"Hi Sarah
Just wanted to thank you for today.
I was in a menopause nightmare before I found you. In desperation I tried HRT which I didn't want to do, symptoms were eased a little but the crippling anxiety and insomnia were getting worse. I tried my doctor again and after waiting 8 weeks for an appointment came away feeling bewildered and ashamed for wasting their time in this pandemic.
I walked out of my first session with you a different woman.  There is not going to be a miracle instant solution but the pure luxury of having someone to talk to. It's like having your best friend and your Mum giving you expert and common sense advice.
Menopause is a complex issue, being able to access professional and up to date information on everything from HRT, diet, sleep and mental and physical wellbeing is for me a genuine sanity and life saver.
Thank You Sarah for being such a caring and warm professional.
I will recommend you to any woman I know who is hoping to feel empowered and comforted through this journey of change and with your help positive transformation."
Michelle